We couldn't have asked for a better day for this ride, held on the 5th June from Coombe Hill. Unfortuantely two riders dropped out at short notice but this didn't stop eight local riders attended including Club Staff ride leader Darren. The ride was a twenty four mile ride off road ride from Coombe Hill taking in trails in and around Great Missenden and Wendover before returning back to Coombe Hill. The weather was stunning but the trails were still muddy in places after recent rain. A great turn out again with a mix of brand new faces and returning visitors and club members alike. A big thank you to everyone who attended and to club ride leader Darren for organising another cracking event. Keep an eye on our website for our July open group ride details coming soon.
We were completely spoilt with the weather for our May open group ride event starting at Ivinghoe Beacon. This event had gained a lot of interest and alot of local riders had pre-registered to attend, however on the day perhaps people were put off by the 27 degrees and burning sun as only four brave new faces turned up to follow our ride leader Darren around his preplanned Chiltern Hills route.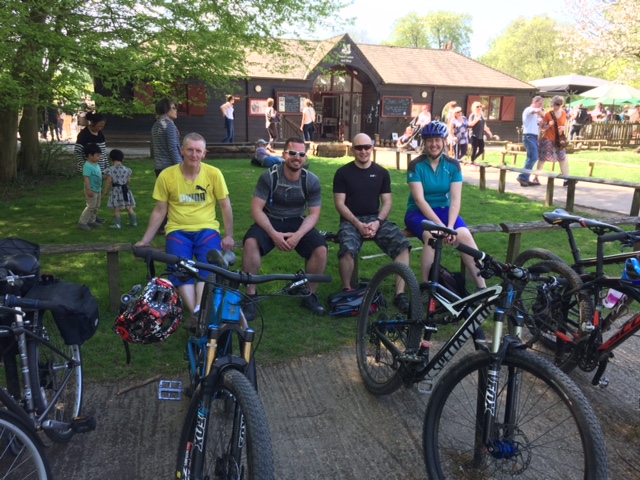 Darren's route started and finished at the main Ivinghoe Beacon car park and took in about a fifteen mile singletrack Chiltern Hills route in and around Ivinghoe and Ashridge areas. The new faces that attended seemed to enjoy the ride and certainly had a great day to enjoy it.
Thank you to everyone who attended and expressed an interest in the event, and a big thank you to ride leader Darren who planned and led another great ride.
Look out for future group ride event dates on our main website and social media feeds very soon.
As the weather was looking sunny and mild (and we have already eaten far too many mince pies....) we felt it was only right to have an open group ride before Christmas. Our ride leader Seamus kindly planned and led the ride, starting and finishing from one of usual haunts, the Cafe in the Woods in Wendover Woods. The route was a new different route that used before, that took in a route over to Coombe Hill, running up and down the ridgeline twice in and around Coombe, Coblers Hill and Dunsmore before returning to Wendover for the inevitable cup of tea and piece of cake! 

Our last open group ride was held on Saturday 19th March starting at Coombe Hill Monument car park. Our open group rides are ideal for beginners and new riders to attend to get a feel for our rides, ride some new trails and meet some staff and club members. A small team of five turned up on the day but we sadly lost one rider early on due to a dodgy knee!
The weather hadn't been too kind on the lead up to this ride however the small brave team that attended were very impressed with the trail conditions in places, dry and almost dusty trails made for some fun riding (avoiding the odd gloopy patch of course).
Two sets of brake pads, two punctures and one slow speed crash in to a puddle later we made it back to Coombe having spun round a short twelve mile winter loop.
Unfortunately no photos this time around, it was too cold and wet to stop to find a camera!
Thank you to everyone who attended the ride, and please keep an eye on the website soon for future dates for our next open group rides! 
Sunshine and a thick frost (and minus five degrees....) gave us a beautiful crisp winters morning for our November open cross-country group ride starting at Coombe Hill Monument. Nine of us 'braved' the chilly temperatures for this ride; a great mix of some brand new faces, some club members and a couple of staff ride leaders too. 
Read more: Chiltern Hills November 2015 Open XC Group Ride Report